Jan
21
We were quoted in an online article today at Lovingyou.com. Check out #4! Thanks to Jen and Ed for their adorable proposal story.
With love in the air and your heads in the clouds, enjoy these romantic proposal stories as real couples reflect on their special engagement moments together.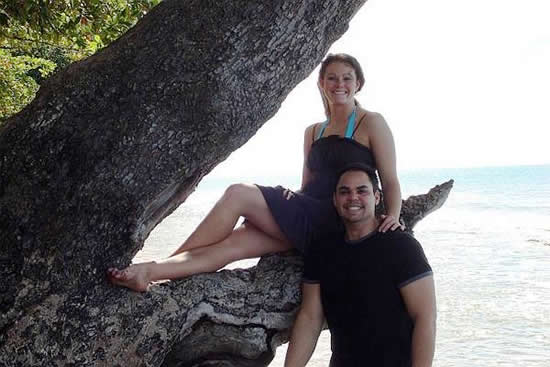 Kim & Will in Puerto Rico
Romantic proposals from real couples:

With a little help from man's best friend
Lisa Ordakowski of Virginia and her fiancé, Andrew, enjoyed a romantic meal at their favorite restaurant before he popped the question amidst a shower of candles and rose petals in their living room. "Our Siberian huskies greeted me with t-shirts that said 'Will You Marry Me'," says Lisa.

To many years of good fortune
The staff at a local Chinese restaurant in Tucson, Arizona helped Matt Russell out with his proposal to wife of 18 years, Nancy. "I inserted the ring into a fortune cookie. When the server brought the check, she opened the cookie and I took a knee. The rest is history."
Hunting for love
"I sent Kate on a five-stop scavenger hunt through New York City," says Cole Kelly of Georgia. "After lunch at Lombardi's, I asked her to close her eyes and count to 20. I put a note on the table and ran." After challenging five different people for clues on Cole's whereabouts, Kate found him at the last stop with a rose and ring.

Simple and charming
Meghann VanderBaan is a wedding planner in Chicago and says that sometimes the simplest proposals are best, giving an example from one of her clients. "[They were] walking with their dog on the lakefront in Chicago. The groom got down on one knee and proposed with a ring that was an exact replica of her grandmother's."

Telling everyone on the street
Melanie and Remco from California met through the online dating service, eHarmony. "I came home one night and Remco had painted a beautiful street painting of a Cupid in the driveway," says Melanie. "It was surrounded with tea light candles and he had Champagne and chocolates."

Cheers to a long life together
"My husband proposed to me in Greece," says Jennifer Heinly of California. "He bought two goblets, one inscribed with 'Will You Marry Me, Jennifer' and poured Greek champagne into it. The other goblet was for my response. We did our first toast for our wedding with them."

Capturing the moment
After whisking her away to San Diego for the weekend, Erin Burns' fiancé got down on one knee in a winery vineyard. Enlisting the help of a friend, Erin's husband-to-be rented a long lens camera to keep a digital record of the proposal. "We have beautiful photographs of the moment, something we'll cherish forever," she says.

Love on display for all to see
Cicely Rocha-Miller's fiancé put her engagement ring on display at the Phoenix Art Museum with a placecard that read, "Cicely's ring, on temporary loan by Mr. Joseph A. Miller, American 21st century, precious gemstones and platinum, June 18, 2005." According to her, the white-gloved guards couldn't remove the glass case fast enough!

Choosing a special location
Kevin Decker proposed to his wife, Joy, at the top of her favorite D.C. landmark, the Washington Monument, after making an impromptu visit to her office. "The two park service rangers were the first to congratulate us on our engagement," says Joy.

Surrounded by love
Annette and Franjo Zovko's engagement was a real family affair. After popping the question, Franjo led Annette back to their Illinois condo where friends and family were waiting to celebrate. "His parents and sister had secretly flown in for our engagement. My whole family was there, he even flew my sister in from New York. It was a really great moment."

Cheers to a long and happy life together
A typical night of drinks with friends turned out to be anything but usual for Jillian Montes of Florida whose husband proposed by hiding the engagement ring in her mimosa. "I kept thinking there was ice in my drink and then I saw the ring sitting at the bottom of the glass," she says.

Cruising through life together
"I was proposed to in 2007, and married in 2008 on the same day, on a cruise ship," says Amanda Vega. "I had no idea he was going to propose and when he got down on one knee I told him to get up because the floor was dirty. Everyone laughed."

A new year and a new life together
Kim from Texas recalls her recent romantic New Years' proposal from her fiancé, Will. "After a really nice dinner at our hotel in Puerto Rico, we were walking back up the stairs to our room and he "tripped." When I turned around to see if he was alright, he was down on one knee. I stumbled through some sort of answer like 'yeah… uh yes,' I was so surprised. It was cute and funny. And to think, I didn't understand why he was so nervous at dinner!"